Friday after work, I was grabbing groceries at the
local indoor farmer's market
, which has all kinds of international products, when something caught my eye. In the ice cream aisle. And I was immediately hit by a shockwave of that uber powerful nostalgicky feeling.
I was pretty stressed out from some challenging cases at work that week, on top off capping of the third week with Christmas Puppy. (Hence the ice cream aisle.) And there it was. The shining beacon of red bean with vanilla ice cream inside a crunchy koi fish.
The magical Korean koi fish ice cream sandwich.
Only the most hard-core Wongstar fans will recall, the magical Korean ice cream sandwich of October 2009. This was the ice cream sandwich I ate the night before I broke 10hrs for the first time in an ironman triathlon. I even blogged about it. And damn right there is a picture of me cheesing it for the camera with my magic ice cream koi fish the night before the race...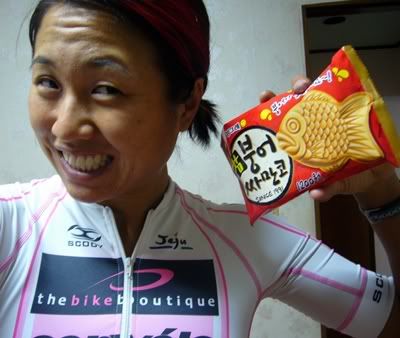 I almost had a heart attack last night, because I was ready to blog about the magic ice cream koi fish, of course with a link to the original
"night before my first sub-10" blog post
, when I clicked the link and found:
"This user has elected to delete their account and the content is no longer available."
AAAAUGHHHHHHH WHAAAAAAAA-------#@!@#$*&$#!-------AAAAAAAT?!?!?!?!
Maybe I did have a heart attack. Or more like an anxiety attack. How could 4 years of over 300 blog posts chronicling my journey from being a normal 13+ hour ironman girl to an international triathlon superstar be deleted, just like that?! I wasn't about to tell the Sherpa, who is constantly on my case about backing up my files. Yes, I had been meaning to upload/download/whatever all my content and throw it onto an archived blog, but, but, but...
A little bit of hyperventilating, Googling, and emailing commenced. If they really were deleted, posts seemed like they were cached on Google. My
Google Reader
had pulled a bunch of posts that I had read (yes, I subscribe to my own blog on Google Reader...I like to re-read my adventures). But not all of them. And I have a whole bunch of drafts offline. But just drafts. Most posts were edited and finalized most of the time until they were perfect. I am a writer, and take pride in publishing blog posts free of horrible grammar mistakes.
Last night, seeing my displeasure on
my Facebook fan page
, the current web chick quickly wrote back to tell me the posts were most likely not deleted and gone forever. This morning my old team manager assured me they are not deleted and are to be put up and viewable again. Some assurance, but my heart is still racing. Or maybe it's the caffeine I'm hyped up on so I can juggle working like a real person with a full-time job, parenting a little puppy, and training to become an Olympic hopeful.
But DELETED. Such finality. My heart aches with the feeling of what once was, because as happy as my new life and exciting as my new sport is, breaking up with triathlon--a 12-year relationship--still hurts. I know I can always go back, but I don't want to.
DELETED.
It's a metaphor for how I feel sometimes.
Like a flash of light, the WongSTAR came, she saw, she conquered. Then she walked away.
Or rather, she ran out of money, smashed into a van, and mentally crashed.
If the old teamTBB blog were truly gone, then what else was there to remember me by? Some days I'm happy to be out of the limelight, the triathlon circus full of both haters and fans, living a quiet life. Other days I see a magic Korean koi fish ice cream sandwich at the grocery store and yearn for the days a sub-10 ironman was a foregone conclusion, living out of a suitcase and traipsing through foreign countries was a lifestyle, and having no money just meant you'd have no problem hitting "race weight."
Is this why I still blog? So I could feel that I have not disappeared, been DELETED from the memories of former triathlon fans? Is there anyone still out there?
"Is there anyone out there cuz it's getting harder and harder to breathe..." --Maroon 5